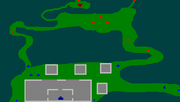 The
Northern Bandit Battle
is a new stage added in
Dynasty Warriors 3 Fanon
as a new Musou Mode stage for
Guan Yu
,
Kan'u
,
Zhou Yun
,
Kousonsan
and
Joukou
. The objective of the mission is to defeat the Bandit leader (
Chouhi
and
Zhang Fei
only appear for Guan Yu and Kan'u.
Xiao Qiao
appears for only Joukou. The rest will have a generic praying mantis helmet officer.) and to defend the Governor Official from getting defeated by the bandits. You will start out with some help from your gate to the southeast, while having some officers helping you (the names will vary, listing all generic names randomly, so you may see
Han Dang
despite being in Wu and your officer is in Shu.) regardless of faction.
For the Bandit's side of the scenario, you will face a more harder challenge. You will still have the same number of bandits you would fight, but the number of officers increased for the Governor Official's side. In addition, the hero/heroine will be random too (Dong Zhuo may even be the hero!) and you may have Lu Bu as the enemy.
Commanders
Edit
(Faction Leader's Name) Forces
Edit
If you are playing as Guan Yu or Kan'u, the Generics will be named the following:
Conditions
Edit
(Faction Leader's Name) Forces
Edit
Victory if:
(Bandit Leader) and all Lt. Commanders are destroyed.
Defeat if:
Governor Official or Player is killed.
Victory if:
Governor Official and Player is defeated
Defeat if:
(Bandit Leader) is killed