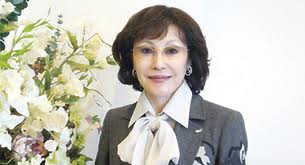 Keiko Erikawa
(襟川 恵子,
Erikawa Keiko
, born on January 3, 1949 in the Kanagawa Prefecture) is one of the founders of Koei and a design graduate of Tama Art University. She is
Kou Shibusawa
's wife, making them one of the richest married couples in the video game industry. She was the executive director of the company until she stepped down with her husband in 2002. Currently, her title in the company is honored chairman and respected company founder. Unlike her husband, Erikawa doesn't refer to herself under any pen name during PR or media events.
While Shibusawa divulges into his interests of global history and simulation games, Erikawa seeks to expand the company's reputation into other video game genres. Erikawa keeps a close eye on trends in the gaming market and tries to promote products she feels reflects the times. She encouraged the development of Opoona, Shaberu! DS Oryouri Navi Marugoto Teikoku Hotel, and Apsaras. Erikawa is also responsible for expressing approval for the online gaming side of Koei, especially for Nobunaga's Ambition and Uncharted Waters. More often than not, she is also present during the accepting ceremonies for the awards the company receives.
Erikawa believes that establishing a firm link of communication with consumers is an important feature for their games, seeking to have them be easy to play and enjoyable by anyone who buys them. She is a pacifist at heart and wants to promote "world peace" with the company's products.
External Links
Edit